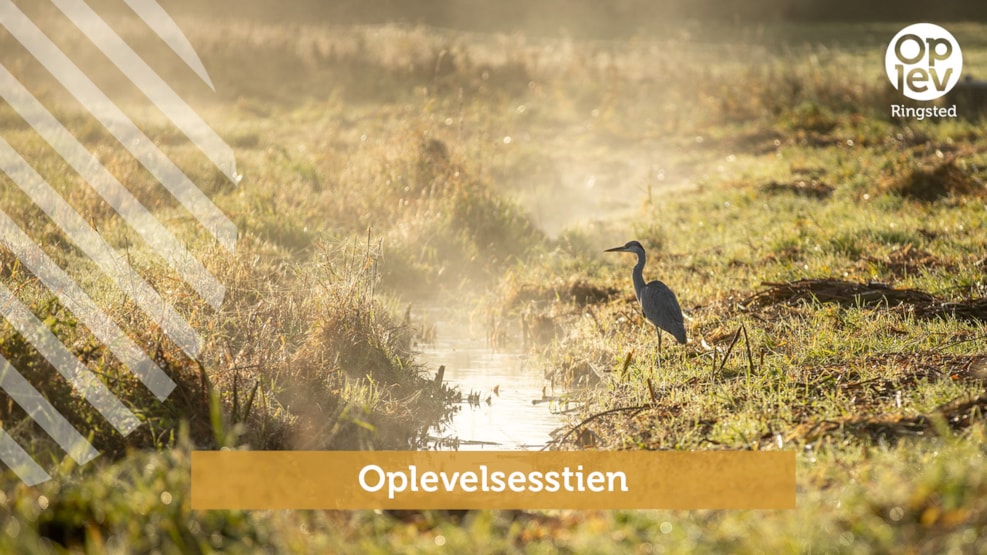 The Experience Path
Ringsted Experience Trail offers unique nature experiences. The 25 km long nature and activity trail runs through most of Ringsted Municipality, from Høm in the southern part to Haraldsted in the northern part.
The experience path is an easy way to unique nature experiences.
The Ringsted Experience Trail is a nature and activity trail of a total of 25 kilometres, and it runs through most of Ringsted Municipality. From Høm in the south to Haraldsted in the north, the path coincides with part of Fjernvandrevej 6 – Sjællandsleden.
In the app Ringsted Oplevelsessti you can see and read about the animal and plant life along the path, and you can learn more about the rich cultural history of the areas. You can download the app here at Google Store or App Store or read more at www.friluftsguiden.dk.
The experience trail brings nature closer to the users, and you can have nature experiences for every taste. Among other things, you can see Northern Europe's largest bird of prey, the sea eagle, which breeds in a secret place in Humleore Forest, and you can see it finding food especially in Haraldsted Sø. Among other birds of prey, you can see the reed hawk, red kite and osprey. In addition, Denmark's most beautiful bird, the kingfisher, and the king of birds, which is Denmark's smallest bird.
In Vrangeskov you can see the special crooked beech trees, and in the spring you can see both blue, white and yellow anemones in the same place. If you are more into speed over the field, you can also use the path as a running route. However, you can also just take a quiet walk on the path and enjoy Ringsted's beautiful nature. To get the full experience of the Ringsted Adventure Trail, you can download the free app 'Ringsted Adventure Trail'. Here you can see a large map of the route, where all the almost 100 experiences, sights and activities are shown.