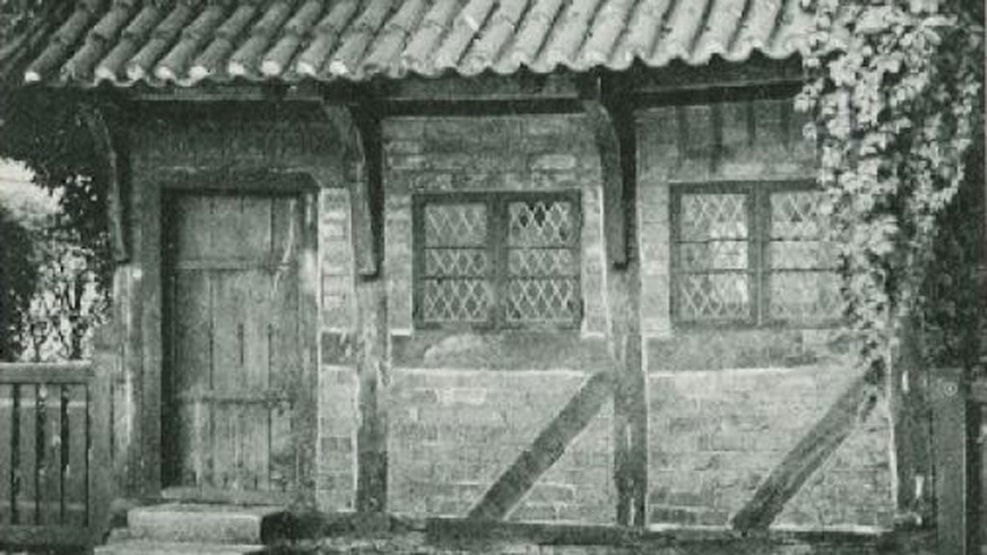 The old house - Køge
The oldest house in Denmark from 1527
The Old House, 20 Kirkestræde

Visit Denmark's oldest half-timbered house with a date on it, today part of Køge Library.
 
The house dates from 1527 and once had a twin house
In 1888, a carved door lintel above the front door was found by chance, beneath 14 layers of plaster. It had the inscription ANNA ANO DNI MDXXVII, which means that the house was built in 1527. There was an identical house adjoining its northern end. Both houses were built for rental purposes, and probably there were more of them. Such houses were called 'våninger'.
Saved from demolition
In 1908 house No. 22 was demolished, and the same fate was planned for No. 20. But owing to the invervention of the National Museum - and Køge Museum above all - No. 20 was luckily preserved.
The National Museum started on a thorough renovation of the house. Originally it may have had a thatched roof, but this roof had been replaced by ordinary pantiles, and they were now replaced  by the present monk and nun roof tiles. An annex with a pent roof behind the house, a so-called stoop, was removed during the renovation.
The old basement
The house was built above a deep basement with fieldstone walls. A stone built staircase that is partially preserved and for centuries was protected by the stoop led down from the courtyard to the segmentally arched basement door.  The basement used to be more detached but it was formerly usual to throw litter in the street, and this caused the soil surface to rise over the years. The difference in level between the street paving of those days and today is more than one metre in some places in Køge. Today, Køge Library organises events and exhibitions in the basement that has an atmosphere of its own.
Many different residents through the ages
The place being a rental house, it has had a lot of different residents throughout the years.
One of them was a retired lieutenant, who lived here in 1801, and who had served in a dragoon regiment called the "Bosniaks". The regiment headquarters were today's Køge Museum, including 125 dragoons orientally equipped with turban, white trousers and red jackets. They were armed with lances and scimitars.
In the last half of the 1800s, the flat measuring about 4 times by 5 metres was occupied by a furrier, Peder Lorenzen, with his wife and 10 children!
It was a tourist office in 1941, and the last resident was the former Danish consul general of Brazil, Christian Ross Faurschou. He lived here from 1945 to 1958, and then the house became a part of the children's library.
Drop in to see the house inside
You are welcome to visit Køge Library to see the interior of the house. Today it provides the setting for part of the cosy children's library.
---