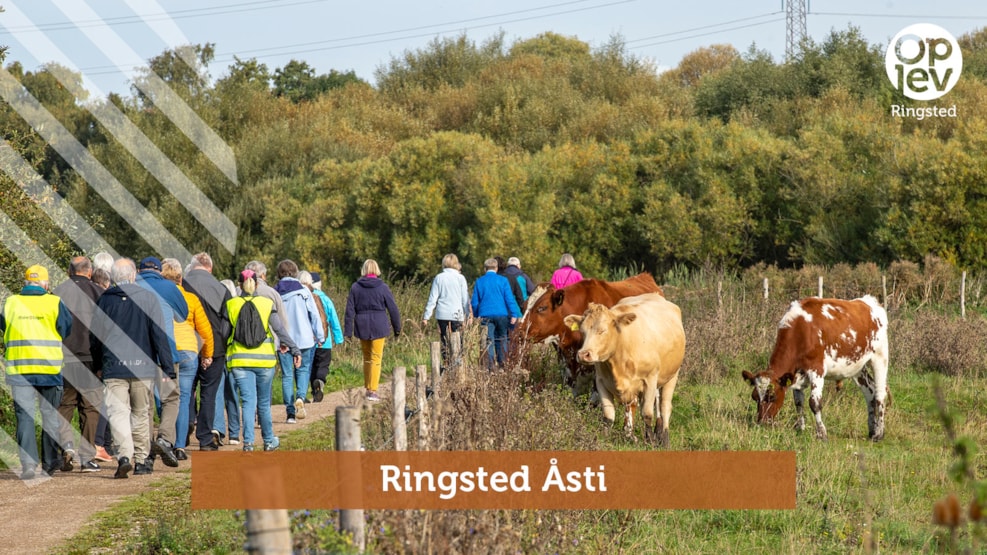 Ringsted Åsti
Ringsted Å offers fantastic nature and rich wildlife.
The trails along Ringsted Å are part of the Experience Trail that starts at Høm Mølle.
If you park at Klostermarkskirken and follow the paths in the upper part of the area, go down towards Høm Mølle and return along the paths down by the stream, you can have a trip of 3-4 km. You can possibly supplement the trip with a small detour to Høm Mølle, where, many years ago, on the gallows hill east of the mill, death sentences were executed on criminals from Ringsted Købstad. Human bones and skulls have been found during gravel digging near the gallows hill. Fortunately, it is completely safe to stay in the area today.
If you want to go on a longer trip, you can continue under the railway along Ringsted Åsti past Torpet Mose. Immediately before the Experience path continues under the West Motorway, you can turn right onto Remmerstien and return to the starting point, either via Bjergbakken back on Åstien or via Klosterpark Stien and through the town.
On the trip along the river, there are several places where you can sit on a bench and enjoy the view - or perhaps bring a packed lunch.
Fishing bridge
At Havemøllebroen, a disabled-friendly fishing bridge has been constructed.
If you are going fishing, you must remember a valid fishing license if you are between 18 and 65 years old. Day and annual tickets and can be bought online, e.g. here www.fiskekort.dk/.
Birds and wildlife
The paths from Klostermarkskirken towards Høm Mølle – if you take the trip at the top of the area – are grass paths, but the entire trip along the stream takes place on stable gravel paths, where the surface is suitable for both walking, running and cycling.
There is a rich bird life along the stream, and in a few places along the way you can say hello to grazing cows.