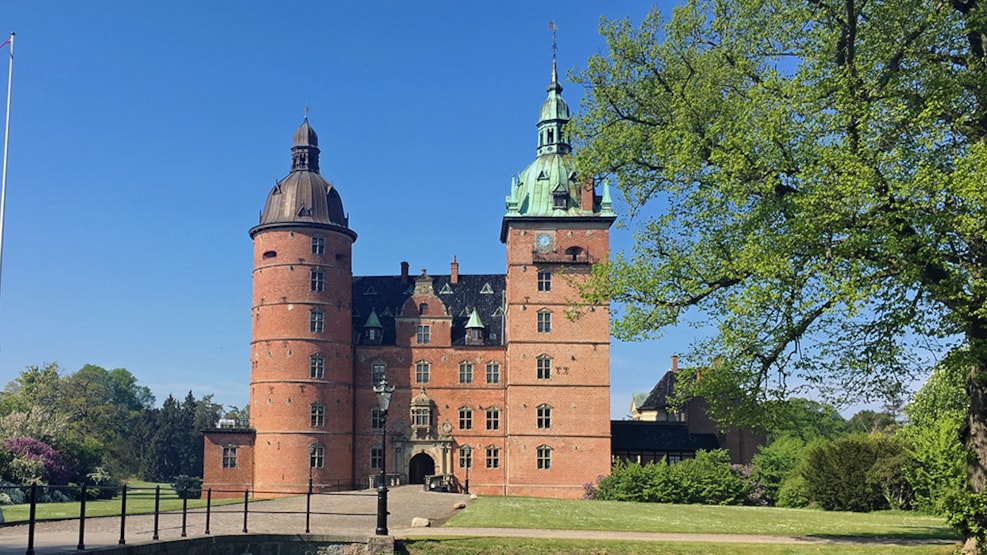 Valloe Castle
The beautiful and majestic castle is in a big forest belonging to the estate. This historical monument is still a great and pompous castle, where noble women with roots in the old noble Danish families can live. The history of the castle is known from the 13th century. The building of the castle was finished in 1586 by Mette Rosenkrantz, with the addition of a west and south wing and the two characteristic towers. The other wings were built in the 16th and 17th century. In 1893 the castle burnt down, but the outer walls resisted the fire and were used in the rebuilding. During the years between 1894- 1904 the castle was rebuilt.
The estate was owned by the well known noble families until 1708. In 1708 it was bought by Frederik IV, who gave it to his mistress, later she became queen Anna Sophie Reventlow. After the death of the king in 1730 Anna Sophie was banished to Clausholm and the new King Christian VI gave Valloe Estate to his queen Sophie Magdalene.
The queen founded on the 28th November 1737 Valloe Trust, as a self governing institution. The original trusts purpose was to support unmarried daughters of Danish noble family's if they were enrolled in the trust. The ladys lived in flats in the castle and were expected to do social work in the surrounding area. In 1976 the possibility of enrollment ceased, but in 2004 the Valloe foundation resumed the enrollment of noble damsels.
Vallø Castle is not open to visitors, but it is allowed to look into the castle courtyard (10 am to 6 pm). However, you are welcome to visit Slotsparken, which is open to private persons between. 8 am and until sunset.